A deliberate theme of the dating website Victoriamilan.co.uk is to give people who are married or in relationships a chance to pursue an extramarital or unfaithful relationship. As the "#1 Site for Extramarital Affairs," it claims to be. It is one of the top dating sites for UK residents because most of its user base is in Europe and Scandinavia.
You can use the website as a single man or woman if you are looking for a partner, even if you are not currently in a relationship or married. The service ensures complete and total anonymity for its users, which explains why users actively pursuing an affair find it particularly appealing. It accomplishes this by offering tools for blurring facial recognition and other anonymous features that help hide payments made. One of the key features is the availability of a "panic" button, which, when pressed, transforms your screen's interface into one that resembles a typical website by directing you to another web page.
The dating platform also has a companion app, but you can access the website on a mobile device. As there isn't yet a "panic" button on the web app, it's advised that you stick with it if you're in a public setting.
Victoria Milan Pros
The registration process is straightforward
The website is safe and secure
There are numerous members around the world
The users of the online service are highly active
Victoria Milan customer support is strong
It offers the AnonymousBlur and Panic features
Victoria Milan Cons
Only paying users can send and read messages
You will have to spend some time narrowing down members
You need to become a premium member to access all the features of Victoria Milan
---
Discover the Best Place for Extramarital Affairs: Victoria Milan Review
Although Victoria Milan functions similarly to most other websites, it differs in that it provides much more robust security measures to protect its users' identities. To avoid standing out, you can conceal prominent features of your face in a personal photo when creating a traditional profile. You can join and sign up at the bottom of the page when you visit the Victoriamilan.co.uk website for the first time.
Your physical characteristics, such as height, weight, eye color, and more, will be listed in your profile, though you can choose how blurry you want your photos to be. Additional information about you can be posted so that other users can see it and decide if they wish to be interested in or turned on by it. Additionally, information can be hidden to protect your profile's privacy further. The site is heavily encrypted and has never been hacked, indicating that it is as secure as it claims to be.
You'll need a premium account to start making serious contact after creating an account and beginning your search for other members to possibly date or begin an affair with, especially with the messaging service. The section below has more information on how to create a premium account.
Registration
On the local home page of Victoria Milan's website, click "Join Anonymously," and you'll be allowed to create your profile. When creating a profile, you are asked questions about the physical or emotional qualities you are interested in, which will serve as the foundation for your search for other potential partners. You'll be able to specify the kind of relationship you're looking for and choose three of your top priorities when looking for a partner. For instance, if you're a married man looking for a woman to start an affair with, you can let other users know about this on the website.
However, you won't be able to create an account until your email address has been verified, so make sure you have access to it. After doing so, you can continue developing your profile and dating preferences.
Is Victoriamilan free?
It costs nothing at all to sign up for a Victoriamilan account. However, I would characterize the app experience as a free user as being extremely constrained and what I would refer to as a very brief trial. You'll get a sense of how the website interacts and works and the kinds of potential partners you might find nearby on your site. As a free member, you can look through profiles and send users "winks," but that is about it.
On the other hand, premium members have access to a wide range of features, such as messaging capabilities and viewing other users' photos. By reading the information below, you can learn a little more about the premium features and the cost of subscribing to Victoriamilan's premium services.
Prices & Subscription Services
Making the most of the dating platform itself requires upgrading your Victoria Milan UK account because doing so ensures that you can start and nurture the relationships you want. Users can enable messaging, gifting, and the ability to view the private photos of other members interested in you or the other way around with a premium account.
The breakdown of Victoria Milan's subscription services, which are offered in three different configurations, is given below.
Remember that these are rolling payments so you can stop them anytime. The entire duration of your purchased Premium membership period will still be available to you.
Total Cost for the Subscription Period: Month-to-Month Costs
3 Months £59.97 (£19.99 per month)
6 Months £89.94 (£14.99 per month)
12 Months £119.88 (£9.99 per month)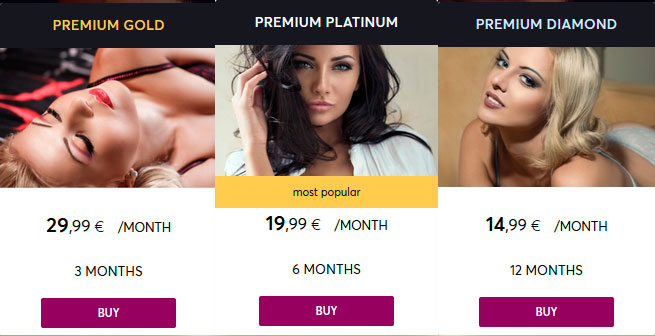 How to delete a Victoria Milan account?
You must log into your main website account to delete your profile. After completing this, you can access the "My Settings" page to manage and control your account information. You can now scroll to the bottom and select the "Deactivate Profile" link. You can completely delete your account by adhering to the instructions after this.
Victoria Milan vs Ashley Madison
Ashley Madison stands out as a potential rival website to Victoria Milan because it is the first of its kind and the older website. You can read a thorough evaluation of Ashley Madison if you'd like.
I think the most significant distinction between Ashley Madison and other similar sites is that Ashley Madison has a more extensive international user base, which could provide users looking for expensive affairs with a broader range of potential partners. On the other hand, the audience of Victoria Milan appears to be heavily centered on Europe, which is probably preferable for those seeking a local partner in the United Kingdom.
Of course, Ashley Madison has previously been exposed for its security issues. Still, since the scandal in 2015, they have grown and resolved many of those problems, enabling them to attract many new users. On the other hand, Victoria Milan has not received any criticism for any security issues. It continues to brag about its robust security features, which go so far as to conceal bills for the premium services customers have paid for.
In the end, both websites have a sizable member base in the majority of nations, are highly regarded for the "niche" they fill, and they undoubtedly aid users in addressing romantic and emotional needs that, despite the prevalence of extramarital affairs, mainstream society doesn't seem to be accepting of.
Features
Panic Button
According to what was stated, pressing the panic button enables users to browse safely thanks to an instant safety feature that switches their web browser to a different, typical, unwary website.
Victoria Milan Website & App
The Victoria Milan Website has a unique design that is highly elegant, and much more extravagant than most regular dating sites. General usage of the website can be done on the mobile site or on the mobile app too.
Premium Features
Messaging
The core of the service is messaging, which is also one of the main arguments in favor of users choosing a premium option because it enables the genuine growth of relationships.
Gifting
As a premium user, you can send and receive gifts.
Seeing who's viewed your profile
It will be simpler for you to choose who to approach when looking for a relationship if you are a premium user who can keep track of who else has been viewing your profile.
Customer Reviews
According to many customers, Victoria Milan is one of the few dating services in the UK that caters to people looking for a certain kind of relationship that centers around the concept of "cheating" and eliminates its social stigma, despite the fact that it is widely accepted in society. Users who are interested in this lifestyle are able to fully embrace it while also benefiting from anonymity thanks to Victoria Milan.
I've also read online reviews from girls looking specifically for Sugar Daddies, and it seems like Victoria Milan is a very well-regarded website when it comes to achieving such goals.
---
Victoria Milan Reviews
We don't have any reviews yet. Please share your experiences with other visitors and write a review about Victoria Milan.