Register, get unlimited access and start flirting! Yes, it's that simple. As a member of MyDirtyFling you will have all the tools you need. An easy-to-use interface, pages and pages and even more pages with photos of possible matches, and all the search options you need to find what you're looking for... fast.
MyDirtyFling Pros
Live-Chat
Profiles are private
You can invite users, or join a private chat
Site is fully responsive
---
MyDirtyFling Review 2023 » Everything you need to know
The dating website "Mydirtyfling" is in the Sex Dating category. This site welcomes people with straight, gay and lesbian sexual orientation. Founded in 2017, it is now 6 years old. The frontpage of the site does not contain adult images.
Features (How does My Dirty Fling work?)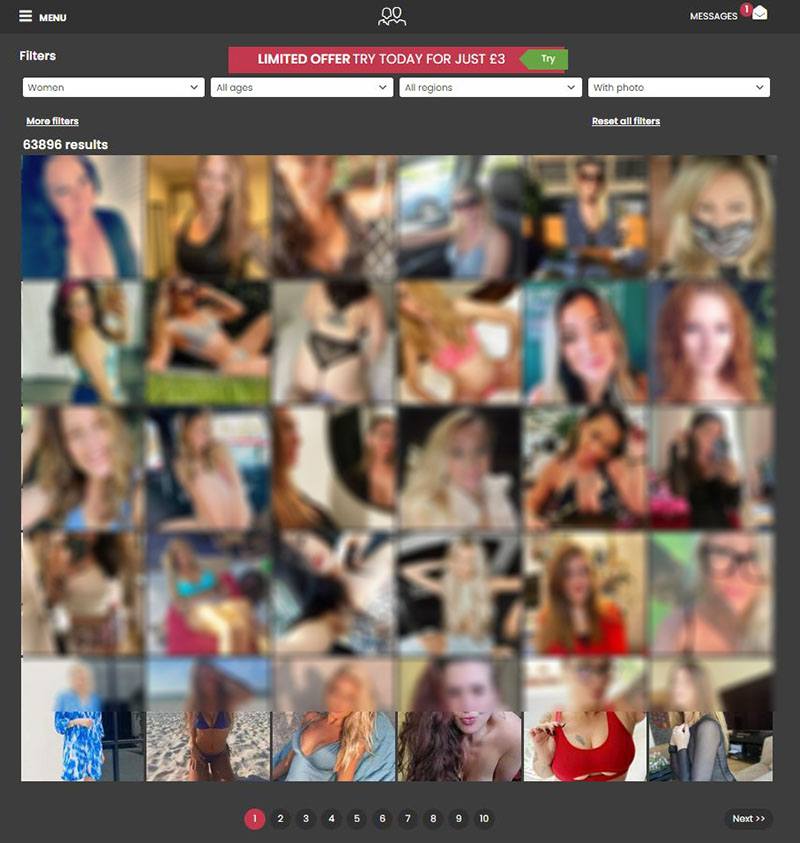 Regional searches are available to identify people interested in dating in your location. You also have the option to invite and/or enter private chats with other members
mydirtyfling.com: Price / Costs & Payment Methods (How much does My Dirty Fling cost? / Is My Dirty Fling free?)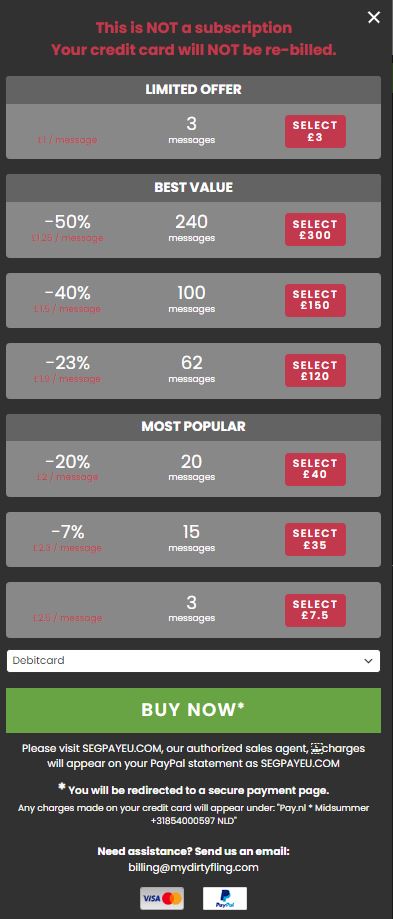 There are no Trial Plans.
Coin-Plan: Credits
This plan is non-recurring, you do not need to do anything.
3 messages cost 3 £
15 messages cost 35 £
20 messages cost 40 £
100 messages cost 150 £
240 messages cost 300 £
You can pay this plan with: pay.nl.
My Dirty Fling Coupon Codes / Discounts
3 messages cost 3 £
Registration (How can I register on My Dirty Fling?)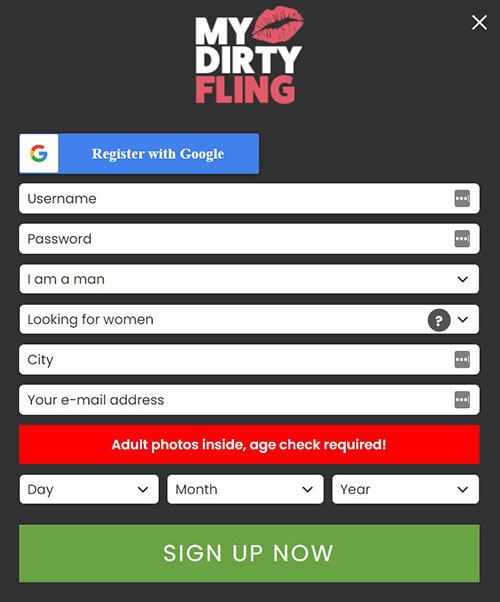 Mydirtyfling has a medium-length registration form with a total of 10 required fields.
My Dirty Fling App / Mobile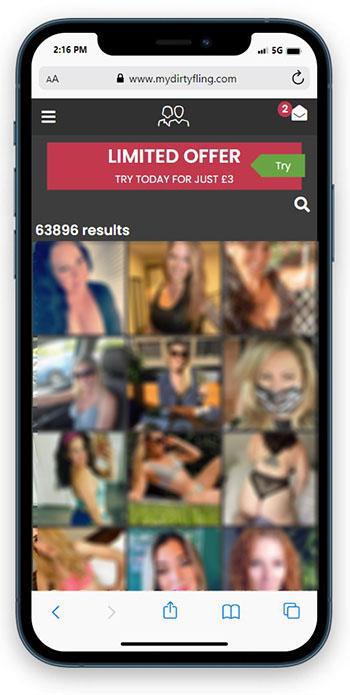 This website has a fully responsive web design, so it can be used on any computer, laptop or smartphone. However, a mobile app is not yet available.
Anonymity
The site doesn't allow you to see any profile if you are not registered as a member. This gives you a basic level of privacy. Since there is no way to mask your images on Mydirtyfling, anybody can see you.

Usually, you can upload a series of pictures to your profile. However, all members can see your photos. Some dating sites offer a panic button enabling users to immediately redirect to another website. This feature is not available on Mydirtyfling.

All data on mydirtyfling.com is sent through an SSL connection making it technically impossible for anyone to intercept your messages.
Fake Prevention
Before using your account on Mydirtyfling, you must confirm your email address. Additionally, all pictures must be approved by a moderator before they are visible on the site. This prevents the photos that are clearly not of the member (e.g. a pet, a cartoon character, a celebrity, etc.) will get uploaded.
Terms of Service (TOS)
As with most dating sites, the terms of service (TOS) are quite lengthy.
Real Life Review
"For any single guy who lives in London, signing up on My Dirty Fling is a must. I'll be frank, before I joined this site it was almost impossible for me to find girls who were interested in hooking up with me. I did try a few other online dating sites but most of them sucked and didn't really help me get laid. And I heard a lot of good things about My Dirty Fling, decided to give it a try. Right from the start, I knew this site meant business and was not useless like the other ones I tried earlier. I got my first match through Match Game, I didn't even use the search bar once but got matches with hot women almost every day. There's no better feeling in the world than having great sex with a super hot chick, at least for me. This is why I love My Dirty Fling and can't do without it." - Paul
Imprint & Contact
If you need to contact this dating site, use this contact information:


| | |
| --- | --- |
| Company Name: | Midsummer Online B.V. |
| Address: | Bergweidedijk 38 |
| Zip Code + City: | 7418AA Deventer |
| Country: | Netherlands |
| Customer Support Email: | [email protected] |
Close Your Account (How to delete My Dirty Fling profile?)
This dating site allows members to cancel their paid membership but keep their online profiles active. To remove your profile from the site, you have two options. Deactivating your profile will hide the profile and members will not be able to view it. This option allows you to log in and reactivate your profile at any time. Alternatively, you can close your account and your profile will be deleted. Once deleted, a new profile must be created, if you wish to use the site in the future. On Mydirtyfling you cannot deactivate your account, but you can close your account. However, if you should decide to close your account, you can do that free of charge. Additionally, you can always unsubscribe to any of the email lists/distributions.
FAQ
Who is My Dirty Fling suitable for?
My Dirty Fling is a dating site that is especially for singles living in the UK to find matching partners and hook up. Most members here are only interested in hookups and casual flings, mostly for sex-dating so, this site will only be useful for those who are looking for short-term partners and no emotional attachments. And also note, it's only available for people who live in the UK.
Can I chat with other members on My Dirty Fling for free?
No, you will not be able to chat online with other users on this site for free. This site requires you to purchase credits ad use them for sending messages. Each credit will allow you to send one message, so make sure you have enough credit balance before starting a chat.
Should I use my real name on My Dirty Fling?
It's better to use a fictional name rather than your real name for your My Dirty Fling profile. Using a fictional name is much safer and allows you to maintain anonymity while using this site.
---
MyDirtyFling Reviews